We have an exciting opportunity for all kids and teens from going into 1st grade to graduating seniors!!!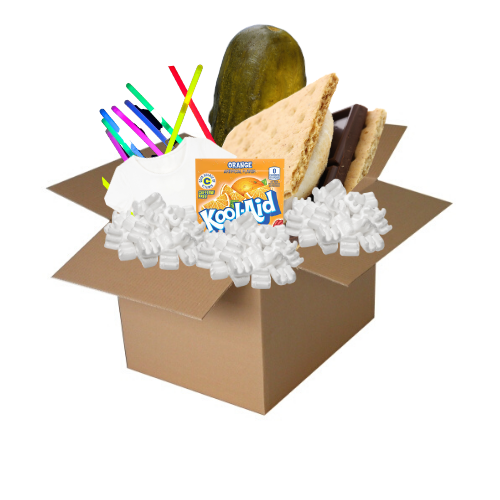 It is a "Camp Box" containing 12 activities that will offer a little bit of what we do at camp, only in your own home. It will have games that we play, silly objectives, some competitions, a craft, and of course a CAMP T-SHIRT!!!
Examples of the supplies include a t-shirt and tie -dye materials, s'more fixin's, glow sticks, a pickle, etc.
We will have dates to do each activity (like the week of June 22nd, etc.) so that they are all doing the same activity at the same time.
We encourage you to take pictures or short videos of your child/teen doing the activity and share them with us
through Facebook, Instagram, or Email so that they can see each other doing the different things.
Everything will be explained in the instructions included in the Camp Box.
---
Children's Pastors/Leaders & Youth Pastors/Leaders, you could even get your groups together and do some of these!!!
REGISTRATION DEADLINE: Monday, June 1st.
CAMP BOX PRICE: $30 (including delivery).